Hello Friends,
This coming Sunday will mark the summer solstice, the 'longest day' of the year. The longest day!
We have been in such a collectively strange space of time for the last four months; some people have more time than usual, many people (like farmers and retail workers!) have even less time than usual. And everyone with small people in their care are feeling very much relatable to the movie Groundhog Day.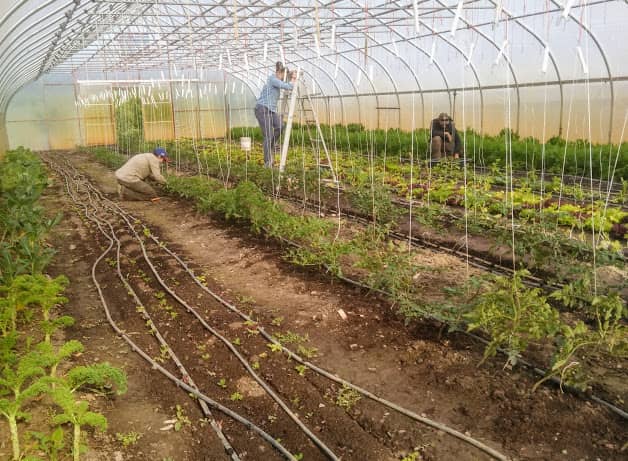 Spaar, Rachel, and Isaiah trellising in the tunnel last week.
You know what is a very good marker of time? The sun and the crops. If I put June 15th into my Google photo search bar there will be, year after year, photos of the kids getting bigger and a photo of my hand holding the first garlic scape of the year or the first ripe mini slicer tomato or the first of the field plantings of kale.
In Kalispell at 48 degrees latitude, summer solstice is marked by 16 hours of daylight. Did you know that many crops are day-length sensitive and can grow faster, not just because of warmer summer days but because of the amount of light they get each day?
There are about 8 weeks of the year where our lettuce mix and baby greens have a much quicker days-to-maturity than the rest of the season, and it has just as much to do with day length as it does with air temperature...good thing too...since the air temperature has been ALL OVER THE PLACE the last month!
The back and forth from warm to cool always leaves us very thankful for so many tunnels to have our summer crops in; especially to help the plants that do love warmer temps, like cucumbers and tomatoes.
This hasn't been great weather for getting the early cucs and tomatoes going...but it has been great weather for growing some EPIC and beautiful Napa Cabbage.
The napa cabbage in the store this week are giant and beautiful! They make a great chopped raw salad or slaw. They are also great stir fried or sauteed. Try a Napa Cabbage this week with one of these great recipes.
Wishing you all a wonderful week as we approach "The Longest Day."
So happy to get this beautiful food from our fields to your table this week,
Mandy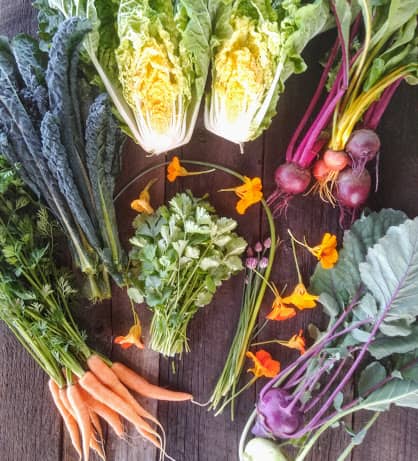 '
Want to try a trial week of CSA? This is our week 6 CSA!
Giant Napa!/ Partials regular Napa-This is such a mild, crunchy variety of cabbage. It makes great coleslaw, but is equally delicious sliced thinly and sauteed in butter.
Chive bundle with 1 Garlic Scape-Try the creamy green-goddess salad dressing recipe below to maximize on these two delicious veggies.
Cilantro-Love this herb? Hate this herb? It seems people fall strongly into one camp or the other when it comes to cilantro. Nevertheless, it's a classic salsa herb and pairs beautifully with lime. (And you can add the stems to a blended salad dressing...if you are a cilantro lover.)
Red and Golden Beets with tops-Next week's weather looks cool enough to slice up some beets, drizzle them with olive oil and roast them in the oven at 425 until tender inside and slightly crisp on the edges. Yum! (And roasted beets would be heavenly drizzled with some garlic scape dressing.
Carrots (FULL SHARES ONLY) with tops-Try throwing some of the tops in when you're blending up a vinaigrette for a fresh, carroty flavor.
Kale-Still a superfood, kale makes a lovely raw salad. Its hearty leaves can even stand up to an overnight marinade in your favorite vinaigrette.
Kohlrabi with leaves- Full share two each Partial share one each-Peel the kohlrabi bulb and slice thinly. The juicy, crunchy slices are delicious raw and sprinkled with a little salt.
Nasturtium-These edible beauties make any dish a work of art.