What does it mean to cook?
What does it mean to eat with intention?
Does it mean spending hours in the kitchen? I don't think so. In fact, I know it doesn't!
Cooking means turning a simple, ordinary, seven times a day thing (you eat 7 times a day too, right?) into gratitude, connection, and grace. Instagram and Netflix might be close to ruining us for showing us what eating should look like. I swear I have farm to table food with every meal and I don't even own a beige handmade plate. It's true!
The food on my family table is simple and served with fresh herbs, nutrient dense leaves, and a sprinkling of flowers. Almost always prepared in 10 minutes or less and always served on a corelle plate.
Do I cook like Julia Child? Absolutely not. Nope. Not at all.
Despite our shared love of butter.
And yet, I cook with the essence of Julia Child, as in, if Julia Child was a farm owner and a mama of three, what would she have time to make? Nachos topped with green onions and fresh cilantro? Beautiful! Casserole with a side of cucumbers and dill? Perfect! A bed of rice and lentil paired with sauteed greens? Yes, please!
With the demands and pace of life, taking that moment, even if it is a 10 minute moment, of clearing off the kitchen counter, rinsing, chopping, and putting food on the table that earlier that day was still connected to the soil...it is a privilege that used to connect all humans to the earth that now is so rare and so VERY precious.
In the Little House Books by Laura Ingalls Wilder the Ingalls family would say that, "hunger is the best sauce".
Re-reading those books as an adult I realize how close that family, repeatedly, to starving. We are living in a strange time where there is access to very inexpensive source of calories at every turn and yet fresh nutritious food is not available to so many.
We hunger for fresh & flavorful food. Fresh and flavorful has become our best sauce. This week's CSA is a 'first taste' of the summer bounty to come.
The first cucumbers, the very tiny bit of first tomatoes, a handful of the most delicious and flavorful sugar snap peas, a bundle of dill bursting with flavor, and the once a year treat of garlic scapes.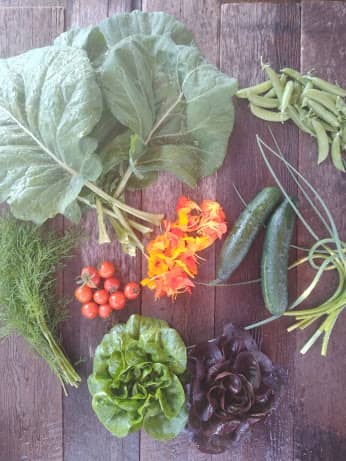 Collard Greens-watch the video in the LVFarm Academy where Dena teachesus how to make collard greens into a wrap.
Cucumbers, either 'slicers' or 'pickling'- both are GREAT as slicers! Either peel and slice or slice with the peels on. These will be delicious with your dill.
Tiny bit of the first tomatoes! - these will be a 'round robin' we'll take turns different folks getting tomatoes different days of the week over the coming weeks...before you know it there will be plenty for everyone! Every week!
Sugar Snap Peas-a little taste of vegetable candy!
Nasturtium (last week for having these in CSA! enjoy!)
Either Mini Bibb Lettuce or Red/Green leaf lettuce
Garlic Scapes-put in a plastic or glass container and these will keep for weeks!
Dill-every thing is better with dill!
I'm really looking forward to making this
layered market salad
this week and subbing the green onions for garlic scapes!
Wishing you a week blessed with fresh food on the table,
Mandy
P.S. The Online Store is STOCKED for the week! Looking for more garlic scapes or sugar snap peas? We are putting each and every one from the farm into the CSA this week; if there is more...it will be in the store next week.