"We make a living by what we get, but we make a life by what we give."-Winston Churchill
Now, more than ever, we are deeply grateful for the life-giving work of Organic Farming.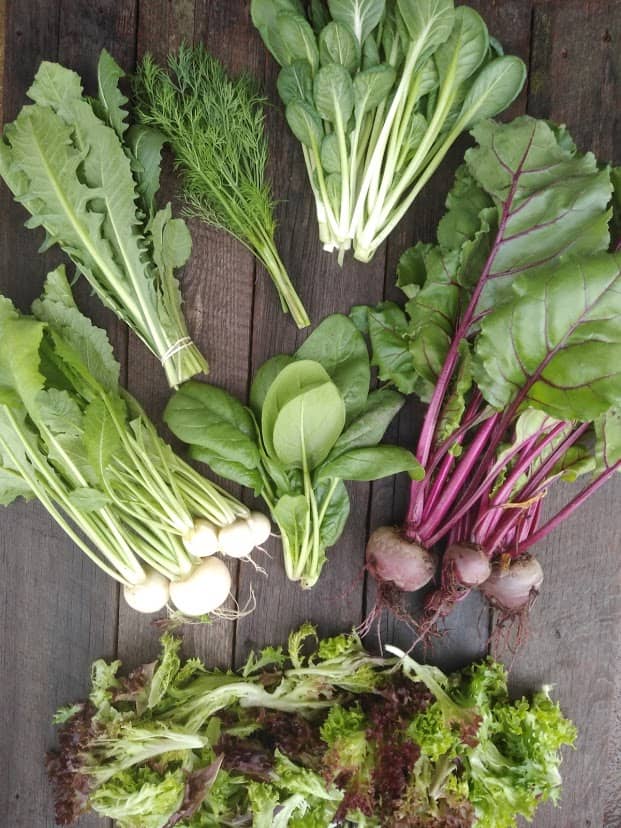 We are so excited to have you join us for 20 weeks of seasonal eating. We can't wait to get fresh, beautiful, nutrient-dense produce from our farm to your table.
Our crew has been working so hard to prep beds, seed, plant, and get the farm rolling for the season...you know, all the normal spring work on the farm. We have also been adapting and changing our systems to keep both our farmers and customers safe during this season.
Speaking of this season...I want to share with you how incredibly reassuring it has been in the last month to see that the sun continues to come out, the seeds continue to germinate, and the plants continue to grow. This has brought us so much delight on the farm. And now we are so grateful to pass on these spring harvests from the field to your table.
Three Pro Tips To Getting The Most Out Of Your CSA Membership
Store it Cold & In Plastic or Glass!
This one tip will make CSA such a better experience!
Every single veggie should be stored in plastic or glass when it goes in the fridge!
New in 2020! These AWESOME compostable bags are BREATHABLE and your produce will get dehydrated in the fridge. Store it in a PLASTIC produce bag or put it away in a glass container.
2.
Eat Those Greens!
Did you know the tops of your turnips and beets are edible and DELICIOUS? Did you know the stems of your dill can be blended up in salad dressing. Did you know the stems of your tatsoi/bok choi/baby bok are crispy and delicious. Eat the whole vegetable! And we have TONS of info in the LVFarm Academy with all the details for all the bits of all the veggies.
3.
Use the LVFarm Academy
-Haven't signed up yet? Search your email for "LVFarm Academy Coupon Code" and you'll have the instructions to get into your calendar year account.
Start with the Seven Steps to Seasonal Eating Success!
The first four weeks in CSA are heavy on salads and stir fry!
I once had a new CSA member share with me,
"We got used to eating salad and stir fry...and then the boxes changed for summer...
and we missed the salad and stir fry and LOVED the cucumbers and tomatoes!"
This sums up seasonal eating so beautifully. Each crop has a season, and it makes us savor these tender and delicious spring greens all the more!
CSA Week 1
Partial shares get all the same veggies in ½ - ¾ amounts.
Culinary Dandelion Greens: What? Dandelions? Aren't those weeds? Notoriously bitter, many people recommend blanching these in a big pot of boiling water before sauteing them. You can also leave them raw and chop them up small to add to a salad. (Or try one of the recipes below.)
Dill: A creamy dill salad dressing would be the perfect accompaniment to a dandelion, lettuce mix, and spinach salad.
Either Tatsoi, Bok Choi, or Baby Bok Choi: Remember, you can eat the whole thing, stems included! Lovely in a stir-fry or sauteed and served with your morning eggs.
Spinach
Beets with fabulous greens: These beautiful greens cook down A TON. Chop them small, saute with olive oil, some chopped onion, and garlic. Then add a splash of vinegar or lemon juice at the end. (And a little sprinkle of crispy crumbled bacon takes them over the top!)
Lettuce Mix
Hakurei Turnips with amazing greens: These turnips are crisp and delicious raw. And eat these greens! Seriously!
Recipe of the Week: Dandelion Greens Risotto
A
dapted from honestcooking.com
Ingredients:
1 tablespoon extra virgin olive oil
6 cups vegetable or chicken broth
1 green onion, white bulb chopped into ¼" dice, green stems thinly sliced
1 cup risotto rice (Arborio is usually easy to find)
½ cup white wine (or additional broth)
1 bunch dandelion greens, washed and coarsely chopped
½ cup grated aged Asiago or Parmesan cheese
Combine the oil and butter in a heavy, large skillet over medium-high heat.

Warm the stock in a saucepan, covered to keep it from evaporating.

Add the chopped white bulb of the onion and cook until soft and translucent, about 2-3 minutes. Stir in the rice to coat with the oil, and cook for 1 minute.

Add the white wine and stir, cooking until absorbed by rice. Begin to add the broth, ½ cup at a time, stirring after each addition and waiting until the broth is absorbed by the rice before adding the next ½ cup.

After about 10 minutes of cooking, when the grains of rice are beginning to soften, stir in the chopped dandelion leaves.

When the rice is tender, but still firm to the bite – al dente, turn off the heat. Add in a last ¼ cup of broth and the grated cheese. You likely will not use all of the stock – you should cook just until done, not until the stock is gone! The amount of cooking time will depend greatly on the type of rice, the age, and relative humidity, so use your judgement. Season with salt and pepper, garnish with the sliced green onion stems and serve immediately.
Recipe of the Week: Dandelion Greens Pesto
Adapted from kitchenstories.com
1 bunch dandelion greens (leaves only), washed and coarsely chopped
½ cup grated parmesan cheese
Add all ingredients to a food processor or blender. Blend until a creamy pesto forms. Then taste and adjust seasonings. Serve on pasta or as a pizza topping.